October 7, 2022
Choosing the Perfect Engagement Ring: Fyne's 5 Top Tips
Thinking about proposing but not sure where to start? Here are our five tips!
You've decided to take your relationship to the next level and are ready to propose to your partner. First of all, congratulations! This is a huge step in your lives together and a sign of your commitment to each other.
Now you've begun thinking about the proposal, you might be unsure where to begin. Of course, the first thing you need to do is find an engagement ring. This process can feel a little overwhelming, with a lot of pressure on you to find 'the perfect ring'. Just remember that this journey should be an exciting one, where you get the opportunity to choose a unique piece for your partner to show your love. 
To help you get started, we've put together five tips to help you find the engagement ring to wow your partner. 
1. Set your budget
The most important thing to consider is how much you want to spend. Maybe you have a price in mind, or perhaps you need to browse through some collections to get an idea of the value of current engagement rings on the market. 
Once you've set a rough budget, you'll have more clarity about whether you want to shop from our existing collections or opt for a custom design. At Fyne, we want to make it an option to create something beautiful from any budget, and we have created beautiful engagement rings for as little as AED 5,000 through our Bespoke Service! 
2. Think about your partner's wishes
You may have a good idea of the kind of engagement ring your partner would love, or maybe you're feeling a little clueless about the whole thing. Here are some of the ways you can find inspiration:
1. First of all, check your partner's Pinterest to see if they have any boards for wedding or engagement inspiration. Perhaps they've already put together an idea of designs and styles that they like.
2. Try reaching out to family and friends to see if they have any ideas about design, style and colour.
3. Look at your partner's current jewellery. What type of gold colour do they normally wear? Do they like subtle or bold? Are they looking for something classic and traditional or something striking and unique?
Finally, collate a mood board from all of these sources. Bring all of this inspiration to Fyne's Founder, Aya, and she will support you through creating the right design with our bespoke service. Aya will keep you informed throughout the process, letting you design the perfect fit for your partner. 
3. Know where to look
Having a clear idea of your budget and design should give you a good idea of where you want to look. If you're going for a bespoke option, consider whether you'd like to do it face-to-face or whether the process is possible online (95% of our bespoke clients are virtual!).
If you're choosing a ring from our website, have your design and budget in mind when you browse, and keep an open mind! You might have the perfect image of the ring you want, but a totally different style could speak to you as you browse.
4. Find your partner's ring size
Finding the perfect size ring for your partner is no easy task. Luckily, we've created a free PDF ring sizer for you to measure a ring she currently wears to find the correct size.
If you don't have an existing ring to measure, there are plenty of other ways you can find your partner's ring size without giving the occasion away. You can find out more about these in our ring sizing blog.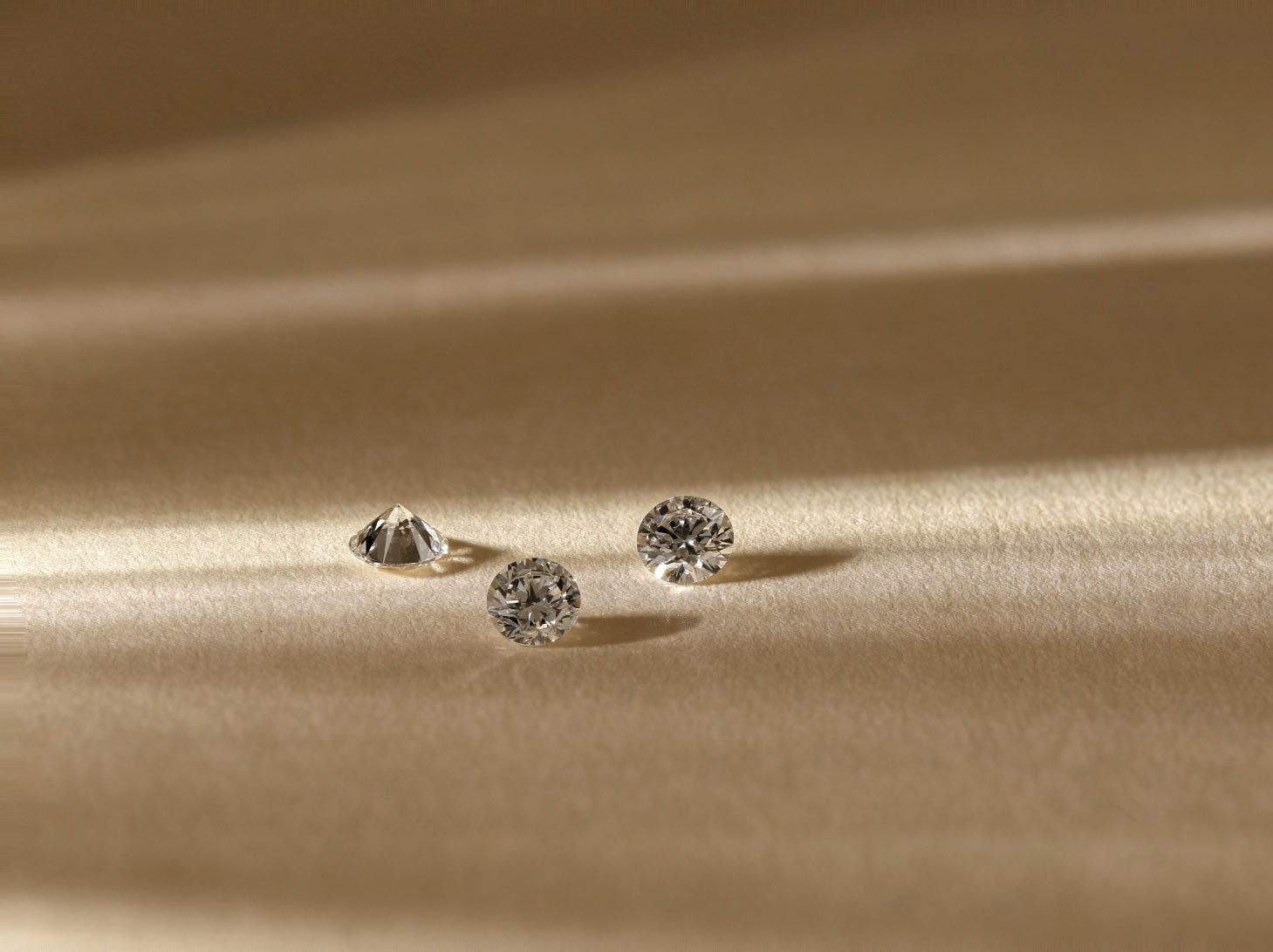 5. Consider the 5 C's: Cut, Colour, Clarity, Carat, Certificate
Finally, it's time for a little diamond education! The 4 Cs are well-known in the diamond industry and are an essential part of the process when choosing precisely what you want from your diamond. The 4 Cs are used to measure the quality and price of a diamond. However, we've also added in an important 5th C to help you decide on the perfect ring:
This measures how the diamond has been shaped and the quality of its finish. Cut can be easily measured by how the diamond interacts with the light and is judged by a grading system from Excellent to Poor. 

White diamonds range from colourless to a light yellow hue. Colourless diamonds are considered the most valuable. They start at D grading ("colourless"), with the lowest being Z ("light"). There is an entirely different grading scale for fancy coloured diamonds such as yellows, blues and pinks.

This looks at the imperfections within the diamonds, judging the stone on its purity. A stone with few or no imperfections will be higher in value than one which is heavily included.

Finally, carat refers to the weight of the diamond (1 carat is equivalent to 1/5th of a gram). The heavier the diamond, the higher the value.
When choosing your engagement ring, consider which of these are important to you. For example, some people prefer larger diamonds—and lower the colours to meet their budget. On the other hand, you might prioritise a flawless stone above anything else. Whatever you decide, we'll work within your budget to find you the perfect lab-grown diamond. The most important thing is how the ring looks and feels to you, and there's no such thing as right and wrong when it comes to choosing your diamond. 
MAKE AN INQUIRY
More from the Journal
June 13, 2023

Sustainable Summer Styling: Fyne's Complete Guide

With summer just around the corner, holiday mode is on! We've selected some of our favourite sustainable holiday destinations so you can relax, enjoy, and indulge whilst supporting conservation projects and contributing to local communities and ed...

April 5, 2023

Fyne Chats: Our New Packaging, Unwrapped

As Fyne has evolved, so has our direction—we still have the same sustainable values we started with, but now we offer an even wider range of collections, bridal pieces, custom men's jewellery, and other bespoke services. That's why we recently dec...

February 16, 2023

How Do I Choose my Diamond Shape? The Complete Guide

A diamond is a classic stone that carries a lot of symbolism and meaning, most often used for those special, celebratory pieces of jewellery such as engagement rings. There is a lot to think about when choosing a diamond, from the size to the clar...
Follow us on Instagram
@fynejewellery
@fynejewellery
@fynejewellery
@fynejewellery
@fynejewellery
@fynejewellery
@fynejewellery
@fynejewellery
@fynejewellery
@fynejewellery
@fynejewellery
@fynejewellery
@fynejewellery
@fynejewellery
@fynejewellery
@fynejewellery
@fynejewellery
@fynejewellery
@fynejewellery
@fynejewellery
@fynejewellery
@fynejewellery
@fynejewellery
@fynejewellery
@fynejewellery
@fynejewellery
@fynejewellery
@fynejewellery
@fynejewellery
@fynejewellery
@fynejewellery
@fynejewellery
@fynejewellery
@fynejewellery
@fynejewellery
@fynejewellery
@fynejewellery
@fynejewellery
@fynejewellery
@fynejewellery
@fynejewellery
@fynejewellery
@fynejewellery
@fynejewellery
@fynejewellery
@fynejewellery
@fynejewellery
@fynejewellery