September 30, 2022
How to Secretly Measure Your Partner's Ring Size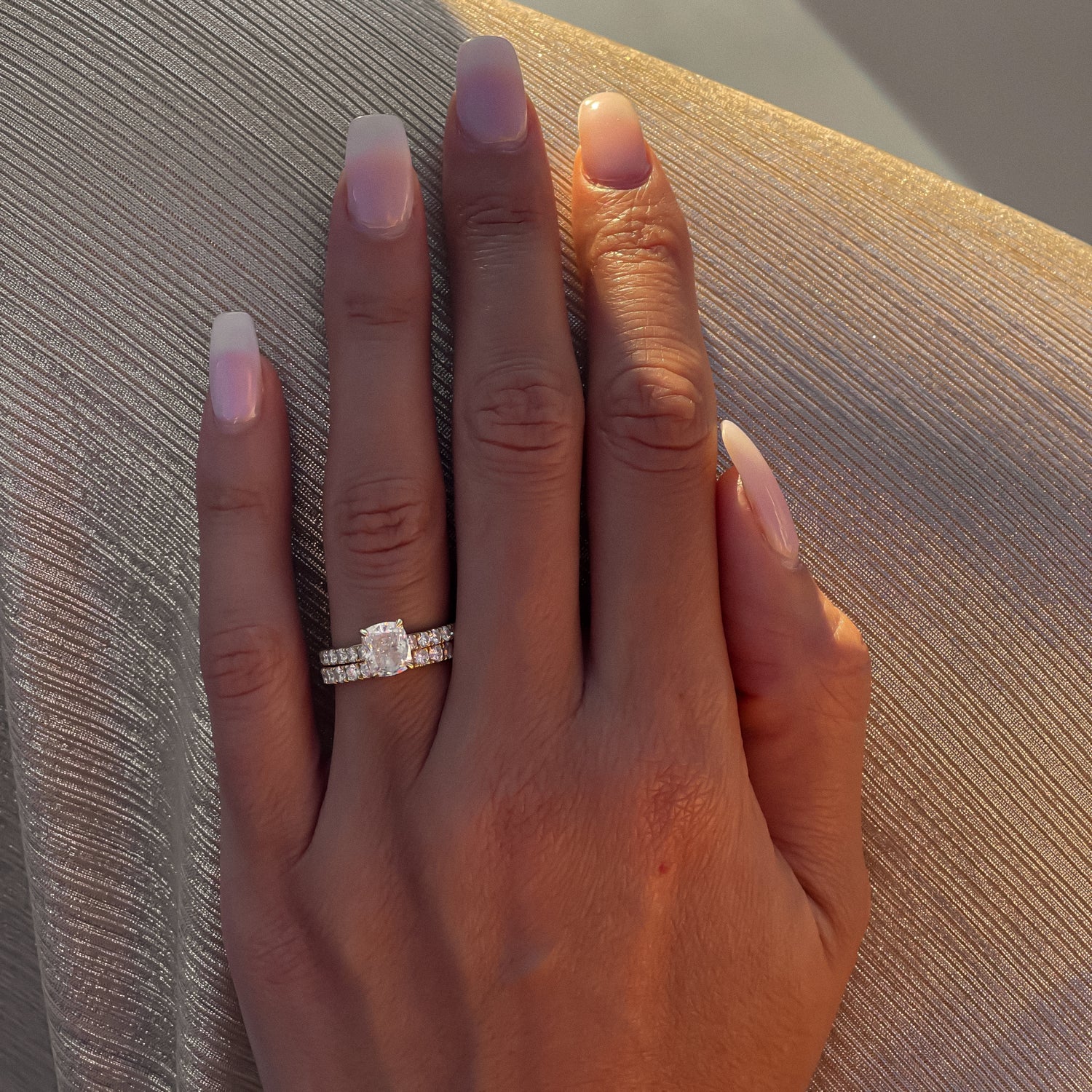 With proposal season approaching, it's time to talk about engagement rings. December is the most popular month for proposals—with the holiday season cheer and the new year, it's the perfect time to get down on one knee. So with only a few months to go, we're here to help you embark on your engagement journey. 
As part of our new direction at Fyne, we also offer a fully bespoke service, guiding you through the process of designing and crafting your dream engagement ring. But how do you find out your partner's ring size without spoiling the surprise of the engagement? We've put together this handy guide to help you discreetly find your partner's ring size.
Use our free PDF ring sizer tool
1
You can use our ring sizer guide to measure one of your partner's existing rings. Make sure it's a ring your partner wears on her ring finger, and be aware that the fingers on our left and right hands can differ in size, so make sure it's the correct finger! To use the ring sizer, you need to: 
1. Print our A4 guide at 100% scale (very important!) 
2. Place the ring on the paper
3. Match the inside of the ring with one of the circles
4. If the ring falls between two sizes, it's better to go for the bigger option
This is by far the easiest 'at home' method for measuring your partner's ring size, so if she has a ring in her jewellery box that you know is a great fit, seize the opportunity! 
Take your partner's ring to the jewellers
2
This option will only work if your partner has a ring they don't wear every day and one you feel you can confidently borrow for the day unnoticed. 
Make sure it's a ring that fits on your partner's ring finger. Take it to any jeweller who will be able to measure the ring and give you the correct sizing. You can then use this when choosing or designing the perfect ring for your partner. Check out our ring conversion chart (not all jewellers use EU sizing).
Measure the ring on yourself
3
If the option above is too risky, you can take the ring and draw a line around your finger with a marker pen at the place where it sits. A jeweller will then be able to measure the line on your finger and give you an accurate sizing for your partner's ring finger.
Tip: While this isn't the most accurate method, it will give you a good idea of your partner's ring size.
Ask friends and family for help
4
Perhaps your partner doesn't currently have a ring that she wears on her ring finger, or you can't borrow one to measure. In this case, it's time to rely on her family and friends for help!
If someone has bought her a ring before, they may already know her size and can give you some guidance. If she has a friend or family member who has similar-sized hands, you can ask the friend to get her ring finger measured to give you some guidance. 
Encourage a ring swap!
5
Once again, this option relies on enlisting the help of your partner's network. If she has a recently engaged friend or wears a ring on her ring finger, ask her to encourage your partner to try it on to see how it feels. The friend can then give you an indicator of how the ring fits. If hers fits well, ask for the size or get the ring measured, so you know for sure. 
Visit a ring shop together
6
Perhaps you and your partner have discussed engagement and are open about the process. This doesn't mean the proposal can't be a surprise, but if there's communication between you both about the idea, you can go to a ring shop together. This way, you can both get your ring sizes measured, so you're both in the know for future purchases. 
Bespoke Service
7
Whatever way works for you, finding your partner's ring size is an important part of choosing or crafting the right engagement ring for her. However, if you get it slightly wrong, it's not the end of the world—most rings can be resized and altered. As part of our bespoke service, we offer to resize rings a size up or down. However, if possible, we prefer to get it right the first time as it's not always easy to resize, particularly with more intricate designs. 
Remember, finding or crafting the perfect engagement ring takes time, and we'd love to support you on your journey in finding the best fit for your partner.
At Fyne, our pieces make great engagement rings—each crafted in 18k solid gold using sustainable lab-grown diamonds. What's more, we're excited to be moving in a new direction, working on bespoke pieces within the bridal sector, including custom-made engagement rings. If you'd like to know more about our bespoke rings, make a direct inquiry so we can help you with exactly what you need.
More from the Journal
June 13, 2023

Sustainable Summer Styling: Fyne's Complete Guide

With summer just around the corner, holiday mode is on! We've selected some of our favourite sustainable holiday destinations so you can relax, enjoy, and indulge whilst supporting conservation projects and contributing to local communities and ed...

April 5, 2023

Fyne Chats: Our New Packaging, Unwrapped

As Fyne has evolved, so has our direction—we still have the same sustainable values we started with, but now we offer an even wider range of collections, bridal pieces, custom men's jewellery, and other bespoke services. That's why we recently dec...

February 16, 2023

How Do I Choose my Diamond Shape? The Complete Guide

A diamond is a classic stone that carries a lot of symbolism and meaning, most often used for those special, celebratory pieces of jewellery such as engagement rings. There is a lot to think about when choosing a diamond, from the size to the clar...
Follow us on Instagram
@fynejewellery
@fynejewellery
@fynejewellery
@fynejewellery
@fynejewellery
@fynejewellery
@fynejewellery
@fynejewellery
@fynejewellery
@fynejewellery
@fynejewellery
@fynejewellery
@fynejewellery
@fynejewellery
@fynejewellery
@fynejewellery
@fynejewellery
@fynejewellery
@fynejewellery
@fynejewellery
@fynejewellery
@fynejewellery
@fynejewellery
@fynejewellery
@fynejewellery
@fynejewellery
@fynejewellery
@fynejewellery
@fynejewellery
@fynejewellery
@fynejewellery
@fynejewellery
@fynejewellery
@fynejewellery
@fynejewellery
@fynejewellery
@fynejewellery
@fynejewellery
@fynejewellery
@fynejewellery
@fynejewellery
@fynejewellery
@fynejewellery
@fynejewellery
@fynejewellery
@fynejewellery
@fynejewellery
@fynejewellery