Sustainability
At Fyne, we believe that beauty and sustainability go hand in hand. That's why we consciously source and produce our materials, making sure they look good, feel good, and do good.
According to Global Footprint Network: "humanity uses the equivalent of 1.6 Earths to provide the resources we use and absorb our waste". This means the earth is unable to keep up with our growing demand, leading to a lack of resources. At Fyne, we want to be a part of the solution, not the problem, which is why we work in line with the UN Sustainable Development Goals. In doing so, we hope to rectify the wrong and ensure a thriving planet for future generations.
Since our launch in 2019, we continue to adopt new findings and innovative technologies. This is a key part of our pledge to sustain, preserve, and protect the beauty of our planet.
Local Manufacturing
1
By choosing to manufacture locally, we are able to sustain our made-to-order approach and eliminate the waste of unneeded products. Additionally, by reducing overseas shipments, we can lower carbon emissions and energy usage! 
It's so important to us that our business directly benefits our stakeholders, which is why we are also proud to support skilled artisans in our community. This enables better quality control of our products and more customisation options for our clients. It's a win-win for all.
Our Materials
2
At Fyne, we believe that beauty and sustainability go hand in hand. That's why we consciously source and produce our materials, making sure they look good, feel good, and do good.
1 of 2

Diamonds

We responsibly source the highest quality lab diamonds, some of which are grown using renewable and recycled energy. So, why do we choose to do this? Earth-mined diamonds come with a hefty price tag: human rights violations, child labour, and slavery. Our lab-grown diamonds are chemically and physically the same, while also being ethical and conflict-free! What's more, the process results in lower carbon emissions, no groundwater pollution, and little to no mineral and land waste when compared to Earth-mined diamonds. We always use colourless (D-F) diamonds, with VS+ clarity grading, to ensure the highest quality. As a result, you can trust that Fyne jewellery is consciously created, without sacrificing the quality you deserve.

2 of 2

Gold

At Fyne, we responsibly source 18 karat gold to make our jewellery. Solid gold is our design choice (as opposed to plating or vermeil) as it is durable, long-lasting, and low-risk for skin allergies. Our approach results in timeless jewellery that not only holds its intrinsic value but can be endlessly reinvented and recycled. With this in mind, we want all our products to be made from recycled gold by the end of 2022.
Our E-Commerce Packaging
3
We've carefully considered every detail of our e-commerce packaging to minimise our packaging waste and care for the environment. In doing so, we're proud to deliver:
100% recycled plastic mailers
Your jewellery is shipped in a fully-recycled, durable, weatherproof bag that can be recycled with other soft plastics where accepted.

Soy-based inks on our mailers
Soybeans are a renewable resource, meaning they won't leave behind any harmful chemicals or petroleum-based products when decomposing.

Specially-sourced cardboard boxes
We use FSC-certified paper, helping to maintain responsible management of the world's forests.

Print-free boxes
We reduce our carbon footprint by avoiding unnecessary inks.
Vegan suede
Our jewellery boxes come with durable inserts made from long-lasting vegan suede.
Lamination free 
We avoid using plastics in our e-commerce boxes to better protect the planet.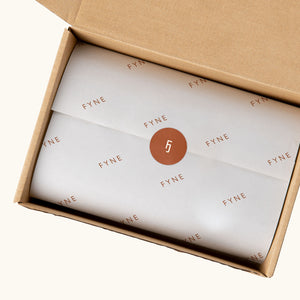 Our Jewellery Boxes 
4
We source our paper from a mill that is ISO 14001 certified by the International Environmental Management Standard. Additionally, this provider only carries FSC-certified paper, meaning they maintain responsible management of the world's forests.
We've also chosen not to print on our boxes or coat any of our packaging with lamination, reducing the harmful impact of toxic chemicals. Where we do use inks, we've selected non-toxic soy-based inks from a renewable source. 
Did you know? Our boxes contain durable inserts made from vegan suede—built with quality in mind and designed to be reused time and time again. 
Our Community Commitment
5
One of our sustainability goals is to educate, inspire, and empower our communities. We carefully craft our thoughts into words via our journal: 
a dedicated page to raise awareness of sustainability and conscious consumerism.

As a small business, we not only strive to support our environment but our community too. On our journey so far, we have donated, fundraised, educated, and spread awareness through our specialised collaborations with:
SightSavers - An NGO helping children with curable blindness. We donated our best seller Dahlia Necklace and Earrings towards a raffle to raise money.
Habibi.Works - We helped the charity to educate and spread awareness of the refugee crisis. You can watch the video with their Co-Founder here.
Slow Factory - After the Beirut Explosion on August 4th 2020, we designed a limited edition Beirut Bracelet. We donated all net proceeds to the charity.
Al Jalila Foundation - Majlis Al Amal is a community well-being centre for female cancer patients. We donated the Ray of Light "Noor" Earrings as a raffle prize for a fundraiser, supporting cancer patients to finance their treatment. 
We are always on the lookout for community projects to support. If you think we'd be a good fit, please get in touch here.
Carbon Neutral Shipping
6
While shipping internationally can be a carbon-intensive activity, we have tackled this by making all our shipments carbon conscious. To do so, we use Planet: a Shopify powered carbon-neutral shipping app that calculates the carbon footprint of our online orders and invests that money towards reducing greenhouse gas and carbon dioxide emissions. Carbon offsets are an effective method to reduce the effects of climate change while staying true to our values.
Transparency Promise
7
We pride ourselves on being wholeheartedly transparent when it comes to our suppliers and materials. If you have any questions about our sourcing, please don't hesitate to reach out to us.