August 18, 2022
Fyne Chats: Rebranding for the Future
Continuing our series of Fyne Chats, we sit down with our very own Founder, Aya Ahmad, to talk about Fyne's rebranding (completed by boutique design studio MAISON 024 in Dubai). Aya discusses her visions for the future, her inspirations, and her personal take on Fyne's values.
Read on to find out what Aya and Sumaiyah (Founder of MAISON 024) have to say about sustainability, the venture into bespoke servicing, and how they've achieved a modern and refreshed brand look.
Aya Ahmad | Founder of Fyne
Aya, tell us what's going on behind the scenes at Fyne.
Aya: As the Founder and Creator of Fyne, I've always set out to create high-quality, minimal jewellery that's good for the planet. Over time, the brand has evolved, and although we still ardently believe in our core brand values, we want to reflect the new direction we're heading in—which is why we've opted for a total rebrand. I'm really excited to reveal the recent changes we've made, including a new logo, colour scheme, and a new attitude to how we approach things.
What inspired you to rebrand Fyne?
Aya: I first launched Fyne two and a half years ago, in November 2019. Brands are constantly evolving, and we're no exception to that—I feel that Fyne is in a very different place now than when we first launched. Our customer base has evolved and grown, and we've been making great leaps forwards in terms of sustainability and our impact on the planet. 
I wanted our logo and branding to reflect our position in the market, especially as we move towards a stronger focus on bespoke pieces, such as bridal jewellery. Creating classic everyday jewellery is still very important to us, but I feel that we have so much more to offer.
With this in mind, our logo was born from a desire to reflect a modern, timeless look. To me, this reflects the journey of Fyne and where we're heading in the future. Our brand is evolving, and so are our clients, and it's great to see that emulated in our new logo and colour scheme. 
Sumaiyah: From a design perspective, we really wanted to communicate a new sense of sophistication within the visual language of Fyne. We wanted to reflect on the new direction Fyne is heading as a brand while keeping its vision firmly rooted in the idea of sustainable luxury.
"While femininity is still a core part of our values, we want our colours to represent everyone."
What was the process of choosing colours that represent the ethos of Fyne? 
Aya: The process of choosing a new colour scheme that reflects who we are was a joyful experience for me. Colour sends a powerful message about your values, so to understand this, we started at the very beginning. We created mood boards and pinned lots of images on design platforms that spoke to us to gather inspiration.
I noticed from our reflections that, as a brand, Fyne tends to opt for more muted tones (our minimalistic jewellery style purposefully avoids big statements of colour). This wholeheartedly plays into our sustainability ethos; we avoid focusing on seasonal trends and, instead, make beautiful jewellery that's timeless in both look and lifespan. 
How does the new colour scheme speak to you? 
Aya: Along with Sumaiyah, our Brand Consultant from MAISON 024, we've selected a range of muted, earthy tones that are both modern and timeless. We are also branching out into men's jewellery (on a custom basis), so we wanted to reflect gender neutrality in our colours. While femininity is still a core part of our values, we want our colours to represent everyone. 
Our colour scheme is very much grounded in the elements, which we've displayed in our core choices of sage, olive, terracotta and sand. This feels very much in sync with the message of sustainability and conscious living that we live by, uniting all the elements of Fyne. 
"The personal touch we offer at Fyne is one of the most important things to me, and I believe it's invaluable to our customers too."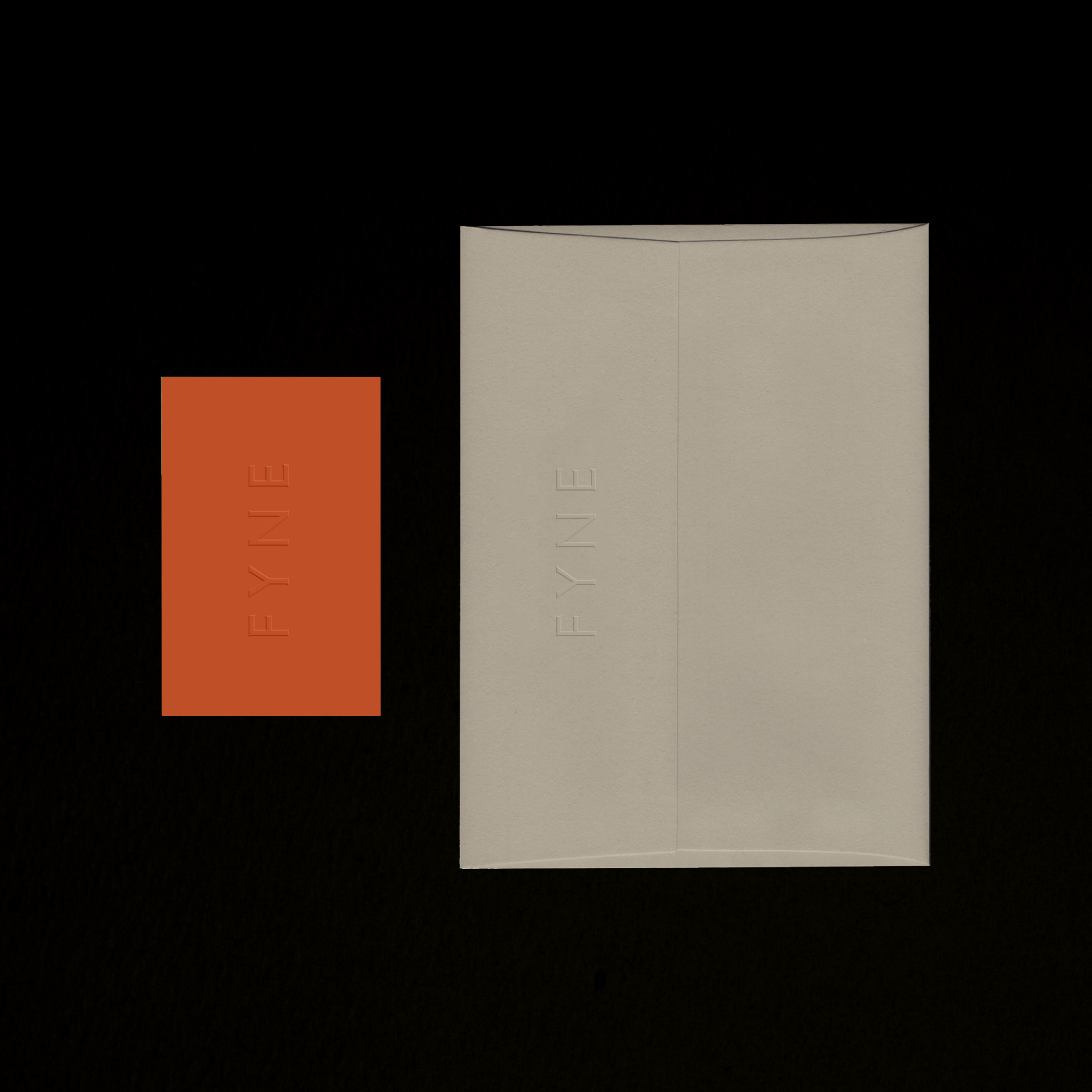 Your brand personality words are 'sophisticated', 'contemporary', 'warm', 'intriguing', and 'timeless'. Which of these speaks to you the most on a personal level and why?
Aya: Of course, all of these values speak to me and how I work, but I think warmth is essential when contemplating the brand's future. On a personal level, customer service and building great relationships is what sets us apart from other brands, and I really value the relationships and warm communication we have with our customers. 
As a Middle-Eastern company, personalised communication is so important for our clients, even more so than in Europe and North America. I often use platforms like WhatsApp to connect with customers who really want to get to know the brand, working to build a close relationship despite never having met in person. 
This ties into our newly-emerging bespoke service, with solid communication being crucial to delivering an exceptional tailor-made experience. We've opened up our services to provide custom pieces for weddings, birthdays, and special occasions—and we're proud of the great connections we've formed with our customers.  
Why is excellent communication so important to you personally?
Aya: When people think of a brand, they think of the Founder. I believe that communicating with our customers directly creates a valuable and long-lasting relationship, and it's a privilege to be entrusted with creating jewellery for the important moments in people's lives. No matter how big the business grows, I always want that personal level to remain so that when people reach out to us, they know they're speaking directly with me. 
The personal touch we offer at Fyne is one of the most important things to me, and I believe it's invaluable to our customers too.
Sumaiyah, tell us a little about Fyne's new logo…
Sumaiyah: The wordmark was the starting point to elevate the perception of the brand. We wanted to highlight the delicate, detail-orientated craftsmanship of Fyne products. 
The wordmark was designed using a modernised serif that reflects the brand's contemporary and classic style—a merging between the traditional diamond industry and Aya's innovative and sustainable approach. As Fyne moves towards a more bespoke way of working, the modernised feel of this wordmark inherently represents this new brand direction.
We also chose to use a narrow letterform that feels more delicate and is reminiscent of the brand name and aesthetic. We believe this refined wordmark captures the essence of Aya's and Fyne's beliefs.
The wordmark was the starting point to elevate the perception of the brand. We wanted to highlight the delicate, detail-orientated craftsmanship of Fyne products.
Fyne's purpose and vision have always been very transparent. Do you see anything changing going forward?
Aya: Our purpose and vision still have the same core values as when we started; we're creating eco-friendly, conflict-free jewellery using lab-grown diamonds. We're about pairing sustainability with luxury, creating minimal jewellery that's ideal for daily wear.
Now, we are shifting towards bespoke services and a more premium line with larger diamonds. In particular, we're really enjoying crafting bridal jewellery and custom pieces for special occasions—a fascinating area to work in (the personalised aspect of this type of design holds great value for me). This expansion is becoming part of our identity, which we proudly display in our new branding. 
I feel passionate about our move to create timeless pieces, both in terms of aesthetic and longevity, as we strive to be more sustainable than ever.
And finally, what's your favourite Fyne bespoke piece that you've ever created?
Aya: Creating each custom item has been a unique and rewarding experience, and I form attachments with every piece and client. However, if I had to choose, I'd have to say an engagement ring we designed for a woman who loved nature. Her fiancé wanted to incorporate this part of her personality into the item, so we designed the basket setting of the diamond to resemble flower petals. 
The client was super involved in the process, always wanting to learn more and ensure every detail was perfect. These are the type of customers I love working with the most; the ones that challenge and excite me, taking an eager interest in what we do.
More from the Journal
June 13, 2023

Sustainable Summer Styling: Fyne's Complete Guide

With summer just around the corner, holiday mode is on! We've selected some of our favourite sustainable holiday destinations so you can relax, enjoy, and indulge whilst supporting conservation projects and contributing to local communities and ed...

April 5, 2023

Fyne Chats: Our New Packaging, Unwrapped

As Fyne has evolved, so has our direction—we still have the same sustainable values we started with, but now we offer an even wider range of collections, bridal pieces, custom men's jewellery, and other bespoke services. That's why we recently dec...

February 16, 2023

How Do I Choose my Diamond Shape? The Complete Guide

A diamond is a classic stone that carries a lot of symbolism and meaning, most often used for those special, celebratory pieces of jewellery such as engagement rings. There is a lot to think about when choosing a diamond, from the size to the clar...
Follow us on Instagram
@fynejewellery
@fynejewellery
@fynejewellery
@fynejewellery
@fynejewellery
@fynejewellery
@fynejewellery
@fynejewellery
@fynejewellery
@fynejewellery
@fynejewellery
@fynejewellery
@fynejewellery
@fynejewellery
@fynejewellery
@fynejewellery
@fynejewellery
@fynejewellery
@fynejewellery
@fynejewellery
@fynejewellery
@fynejewellery
@fynejewellery
@fynejewellery
@fynejewellery
@fynejewellery
@fynejewellery
@fynejewellery
@fynejewellery
@fynejewellery
@fynejewellery
@fynejewellery
@fynejewellery
@fynejewellery
@fynejewellery
@fynejewellery
@fynejewellery
@fynejewellery
@fynejewellery
@fynejewellery
@fynejewellery
@fynejewellery
@fynejewellery
@fynejewellery
@fynejewellery
@fynejewellery
@fynejewellery
@fynejewellery