August 14, 2022
Fyne Chats: 'Less Ego, More Eco' With Reem & Natalya Kanj
How do we make sustainability a part of our consciousness? We sit down with Reem and Natalya Kanj to discuss just that. The forward-thinking sisters are co-founders of Ego & East: a talent management agency born from their accomplished years in the PR and fashion industries. Now, their business ethos has evolved into something people aspire to live by, as the pair push others to act mindfully and minimally in the best interests of planet earth.
And the most exciting news of all? Reem and Natalya have collaborated with Fyne Jewellery to create the 'Stargazing' collection. True to the name, every piece takes its name from the stars and sky. The simplicity of this collection was inspired by the sister's minimal everyday style - designed as a 'second skin' that you'll never want to take off. 
Read on to see what Natalya and Reem have to say about conscious living, their pledge to mother nature, and their favourite pieces from our collaboration...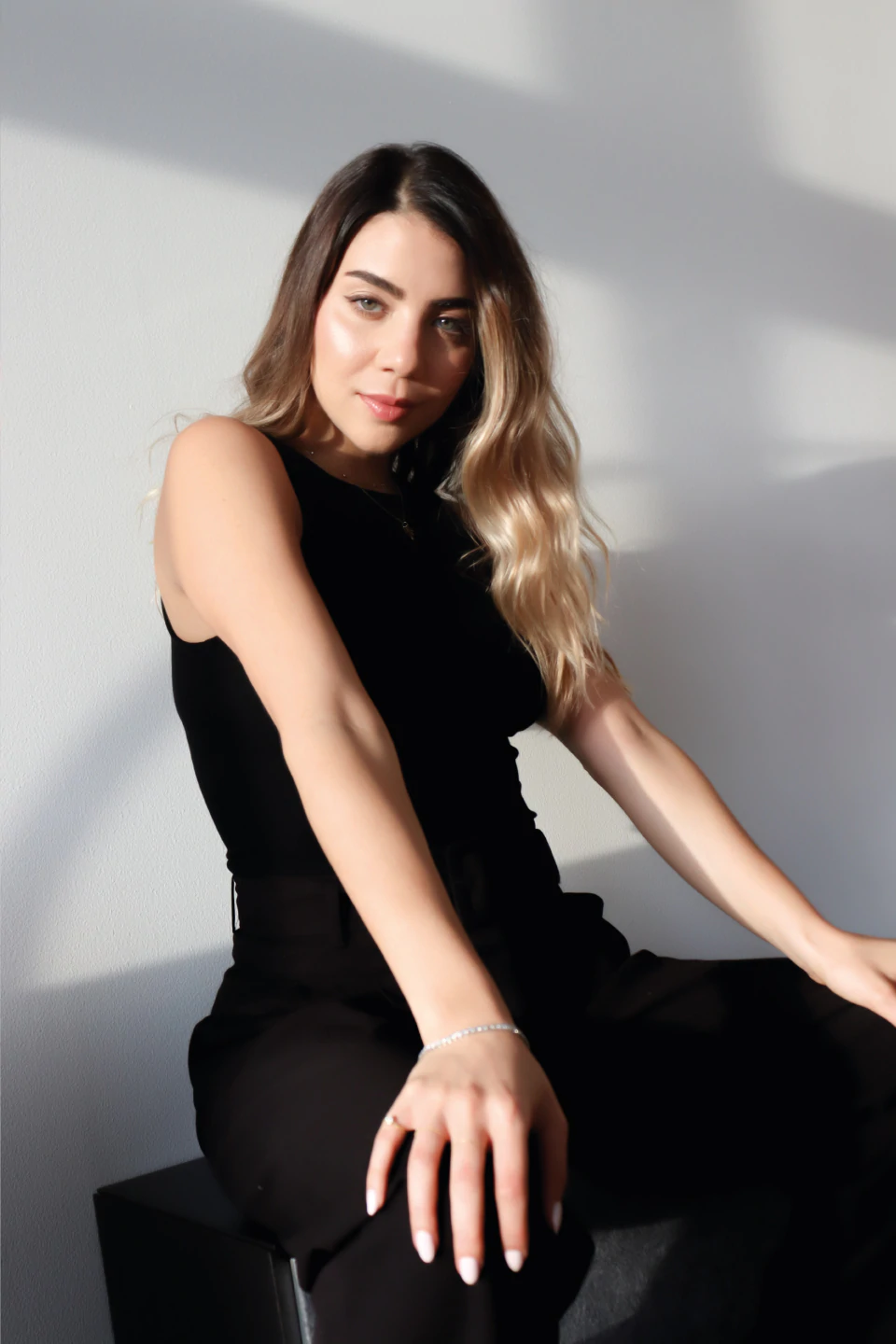 1. Introduce yourselves and tell us what you do
Reem and Natalya Kanj - we're sisters and co-founders of Ego & East: a talent management agency used by celebrities, content creators, and digital influencers from all over the world. Over the years, our personal values and sustainable beliefs have become a conscious part of our business, as well as our daily life. We're all about 'less ego, more eco'.
2. What inspired you to start EGO & EAST?
We've both been in the fashion industry for so long (over a decade!), whether that's through blogging, content creation, or public relations. Starting Ego & East was a natural evolution for both of us, and a fantastic opportunity for us to represent other influencers. As sisters running a business together, the 'family feel' extends to all corners of the business, and we are proud of the strong support system we have created for our clients. 
3. What does 'sustainability' mean to you? 
Sustainability means everything to us. We see it as an integral part of our lives and not just a tag word for specific products or actions. For us, sustainability starts with your consciousness. This core value then emerges into the way you practice your daily life and your habits. 
4. Why did you choose to go vegan?
Reem: For me, it started off as a challenge to see if I could do my part for the environment and the planet. It's also a key part of my healthy lifestyle and overall wellness, as well as a tool we can use to heal, nurture, and protect the earth that we are so blessed to have. It's the best decision I have ever made and there's no looking back! 
Natalya: I became vegan out of the desire to do my part for the planet. Becoming vegan reduces your carbon footprint by up to 73%, so it's a conscious decision for the benefit of the environment. I've been trying to implement more ways to be sustainable and eco-friendly within my day-to-day life, and being vegan (and mindful of what I consume in general) is a huge part of that! 
5. Why do you feel it's important to collaborate with sustainable brands like 'Fyne'?
We both wholeheartedly believe that every decision we make impacts the planet, from what you eat to how you travel and shop. Our decisions in all aspects of our lives are important and, of course, there's no brand that can ever be 100% sustainable (that would require not being a brand at all). However, if we want to contribute little pieces of ourselves for others to enjoy (for example, via beautiful jewellery), then it has to be with brands who are on par with our ethics and vision for the future of consumption and shopping. Conscious living is the only way. 
"Conscious living is the only way."
6. What is your favourite piece from our collection together?
We both adore the rings: the 'Lunar Chain Ring' and the 'Eclipse Diamond Chain Ring'. They have been a long time coming and the designs definitely speak volumes for both of our styles! Our aesthetic is super minimal in both our fashion choices and our homes, and also in how we choose to live mindfully and consciously.
7. What's the biggest change you're seeing in the UAE when it comes to sustainability?
Some supermarkets are finally starting to make plastic bags less accessible to consumers (although there's still a long way to go in that sector). It's nice to see people being more planet-conscious and doing their part. These days, we see far more companies that are choosing to be more responsible and eco-friendly, especially when it comes to plastic and wastage.
8. What is a motto you choose to live by?
Simply to live in the moment.
SHOP THE COLLECTION
More from the Journal
June 13, 2023

Sustainable Summer Styling: Fyne's Complete Guide

With summer just around the corner, holiday mode is on! We've selected some of our favourite sustainable holiday destinations so you can relax, enjoy, and indulge whilst supporting conservation projects and contributing to local communities and ed...

April 5, 2023

Fyne Chats: Our New Packaging, Unwrapped

As Fyne has evolved, so has our direction—we still have the same sustainable values we started with, but now we offer an even wider range of collections, bridal pieces, custom men's jewellery, and other bespoke services. That's why we recently dec...

February 16, 2023

How Do I Choose my Diamond Shape? The Complete Guide

A diamond is a classic stone that carries a lot of symbolism and meaning, most often used for those special, celebratory pieces of jewellery such as engagement rings. There is a lot to think about when choosing a diamond, from the size to the clar...

December 14, 2022

New Year, New Intentions: How to Achieve Your Goals in 2023

As 2022 comes to a close, it's time to reflect on what has passed, acknowledge our personal growth, and set new challenges for the year ahead. With this in mind, we're using December as our month of intentions—channelling a conscious yet determine...

December 5, 2022

Christmas Gifts for Every Style (2022 Guide)

Christmas is nearly here, and you've decided you want to gift as consciously and intentionally as possible this festive season. With only a few weeks to go, we've put together a Fyne gift guide—designed to pair our favourite pieces with your favou...

October 7, 2022

Choosing the Perfect Engagement Ring: Fyne's 5 Top Tips

Thinking about proposing but not sure where to start?  Here are our five tips! You've decided to take your relationship to the next level and are ready to propose to your partner. First of all, congratulations! This is a huge step in your lives to...

September 30, 2022

How to Secretly Measure Your Partner's Ring Size

With proposal season approaching, it's time to talk about engagement rings. December is the most popular month for proposals—with the holiday season cheer and the new year, it's the perfect time to get down on one knee. So with only a few months t...

August 18, 2022

Fyne Chats: Rebranding for the Future

Continuing our series of Fyne Chats, we sit down with our very own Founder, Aya Ahmad, to talk about Fyne's rebranding (completed by boutique design studio MAISON 024 in Dubai). Aya discusses her visions for the future, her inspirations, and her p...

February 25, 2021

Keep Your Beach Clean: 6 Tips For a Plastic-Free Beach Day

Beach season is in full swing and there's no better place to kick back, relax, and enjoy the sweet sounds of the ocean. Keeping the beach clean and preserving beautiful marine life has never been more important in a world of 'plastic-addiction'. S...

August 14, 2022

Fyne Chats: International Women's Day 2022

For International Women's Day 2022, we reached out to some of our Fyne Friends and Clients to raise awareness on achieving a gender equal world. We chatted about their passions, the recent challenges they've faced, and stereotypes they'd like to c...

November 24, 2021

Mindful Shopping: Fyne's Checklist for Conscious Consumers

The holiday season is here, a time for families to come together to eat, celebrate, and treat each other with thoughtful gifts. However, alongside it comes the sale season, with days like Black Friday and Cyber Monday ever-growing in popularity. ...

August 14, 2022

Fyne Chats: 'Less Ego, More Eco' With Reem & Natalya Kanj

How do we make sustainability a part of our consciousness? We sit down with Reem and Natalya Kanj to discuss just that. The forward-thinking sisters are co-founders of Ego & East: a talent management agency born from their accomplished years i...
Follow us on Instagram
@fynejewellery
@fynejewellery
@fynejewellery
@fynejewellery
@fynejewellery
@fynejewellery
@fynejewellery
@fynejewellery
@fynejewellery
@fynejewellery
@fynejewellery
@fynejewellery
@fynejewellery
@fynejewellery
@fynejewellery
@fynejewellery
@fynejewellery
@fynejewellery
@fynejewellery
@fynejewellery
@fynejewellery
@fynejewellery
@fynejewellery
@fynejewellery
@fynejewellery
@fynejewellery
@fynejewellery
@fynejewellery
@fynejewellery
@fynejewellery
@fynejewellery
@fynejewellery
@fynejewellery
@fynejewellery
@fynejewellery
@fynejewellery
@fynejewellery
@fynejewellery
@fynejewellery
@fynejewellery
@fynejewellery
@fynejewellery
@fynejewellery
@fynejewellery
@fynejewellery
@fynejewellery
@fynejewellery
@fynejewellery