December 5, 2022
Christmas Gifts for Every Style (2022 Guide)
Christmas is nearly here, and you've decided you want to gift as consciously and intentionally as possible this festive season. With only a few weeks to go, we've put together a Fyne gift guide—designed to pair our favourite pieces with your favourite people. Whether you want something for the adventure-seeker, the minimalist or the stylish social butterfly, we'll help you find the perfect jewellery to put underneath the tree this Christmas.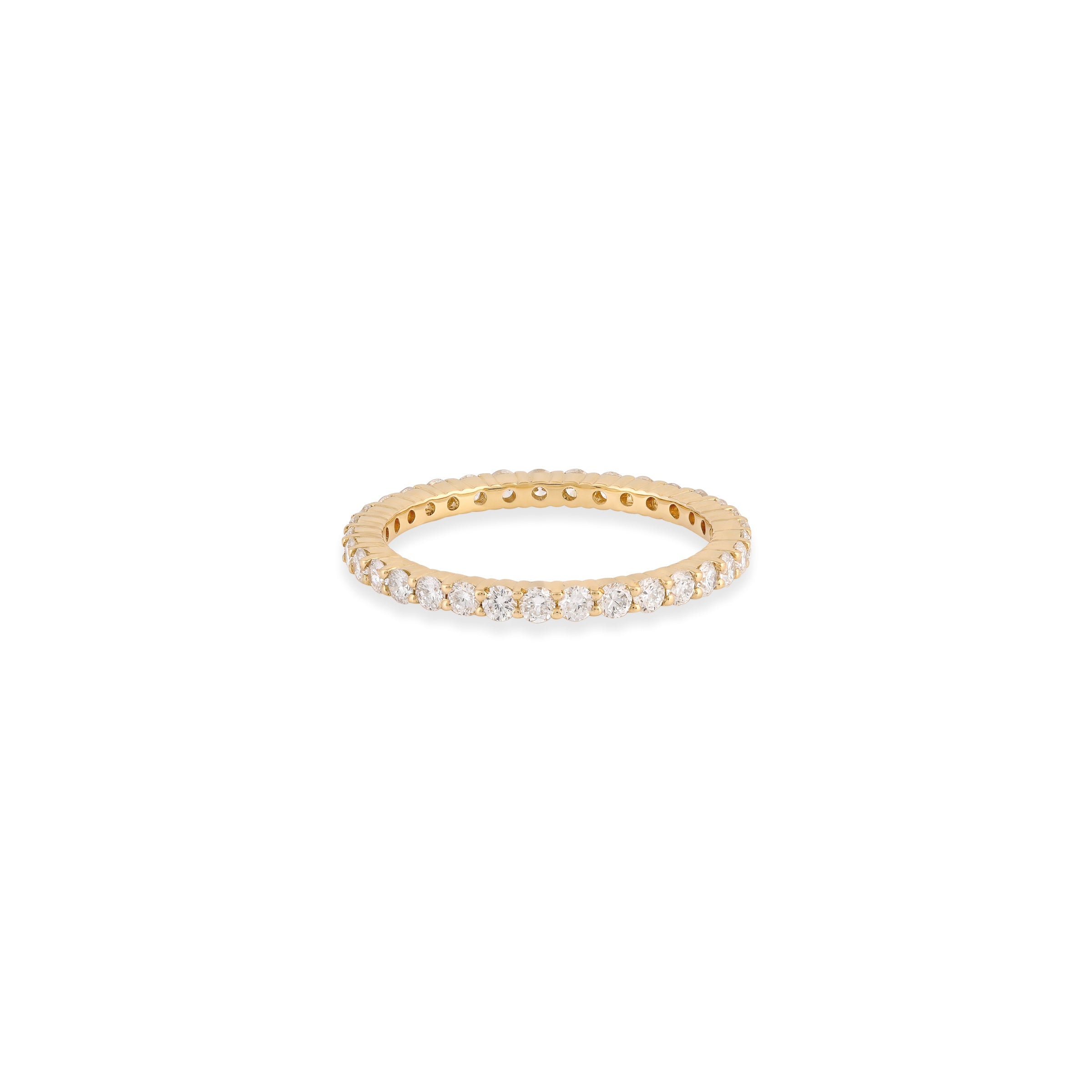 For the Social Butterfly
Amara Diamond Eternity Ring
One for the social butterflies! The Amara Diamond Eternity Ring is the ideal fit for those who are the life and soul of the party. As a symbol of eternal love, it speaks to the passionate woman who wants to share her zest for life with those around her.
This timeless accessory is perfect for everyday wear, with a minimal band design elegantly wrapped in lab-grown diamonds. By day, stack the Amara Ring with other gold accessories for a more creative look, and by night, wear it as a stand-out solo piece with an LBD.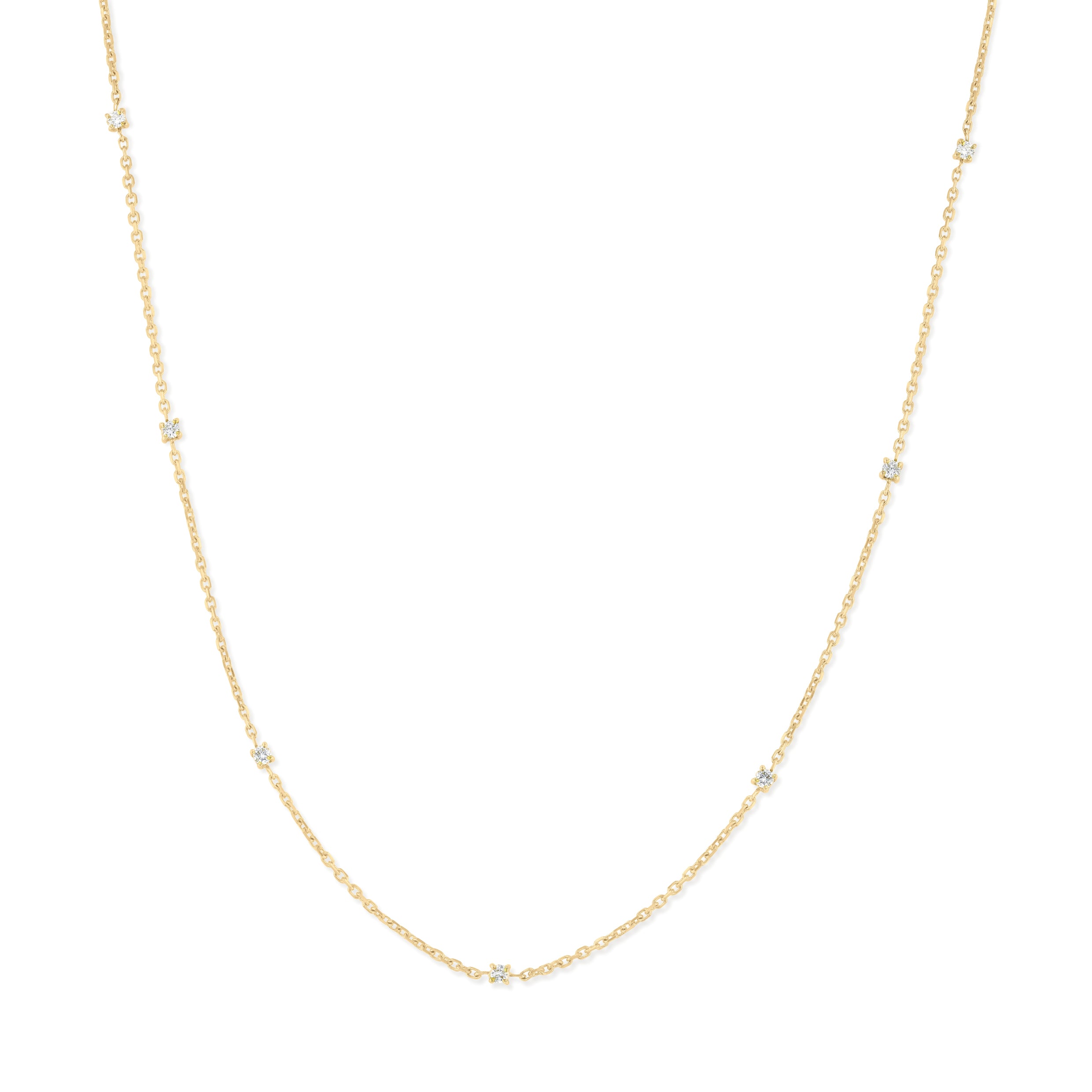 For the Minimalist & the Dreamer
Nova Tiny Diamond Necklace
Searching for a gift for the minimalist in your life can be challenging, so what do you buy for someone who values experiences over things? With its forward-thinking design, the Nova Tiny Diamond Necklace speaks to the minimalists—the ones who see the beauty in 'less is more'. 
A staple of our ethereal Stargazing collection, the Nova Necklace is back by popular demand (available in 18k white or yellow gold, both as a choker and standard necklace size). The piece is inspired by consciousness and speaks to the planet lover who pledges to protect the earth and dreams of a better future. 
Best paired with a simple black body suit and glitzy trousers for your Christmas office party.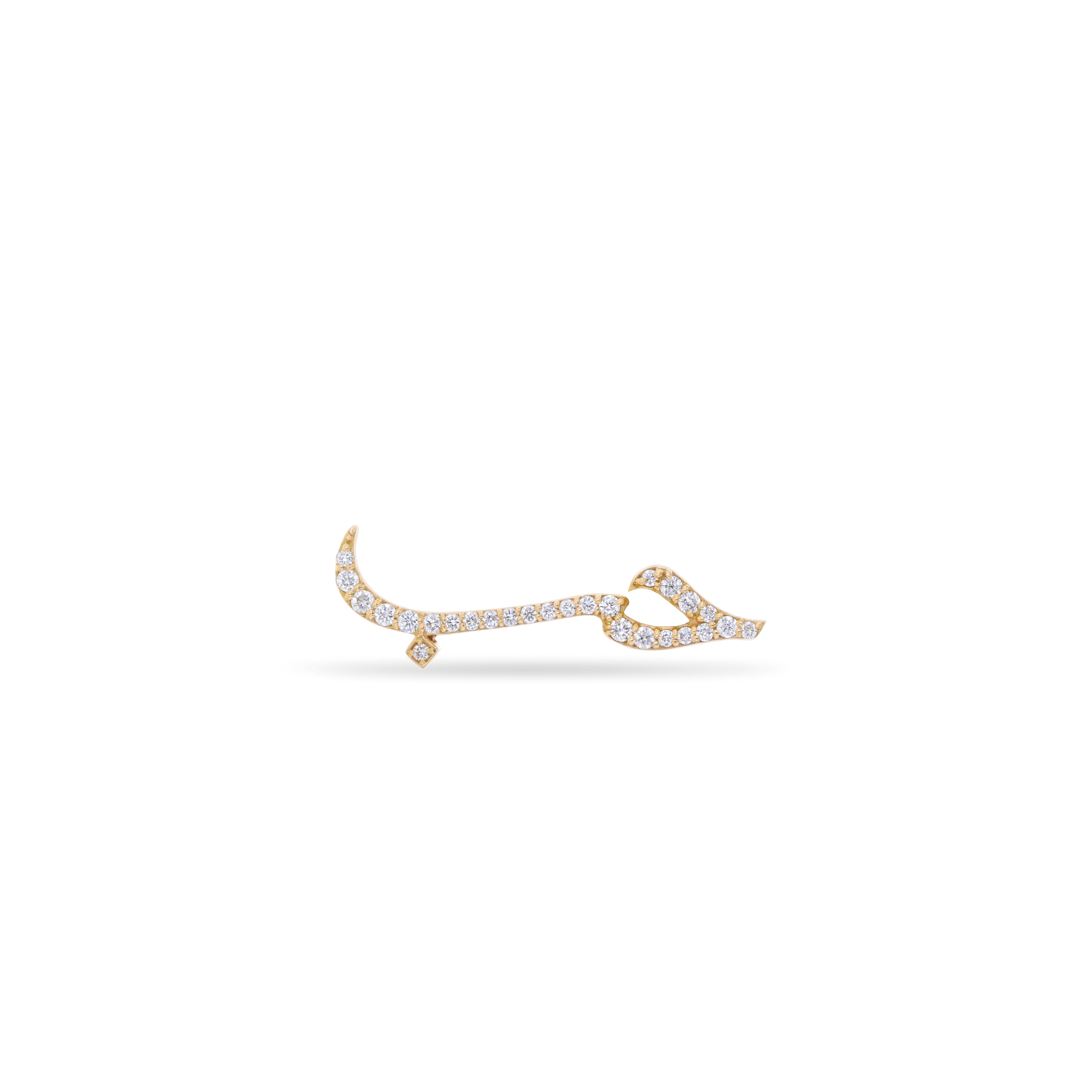 For the Independent & Adventurous
Love 'Hob' Ear Stud
The Love "Hob" Ear Stud is the perfect holiday gift for the brave and the bold—a statement solo piece that doesn't follow the crowd. The single accessory, designed in Arabic calligraphy, is intricately decorated with lab-grown diamonds along its 18k gold curve. It's also available in three gold colours so that you can choose the perfect style for your glamorous giftee. 
Style the Hob Ear Stud with an oversized blazer, boots, a simple white t-shirt, and hair in an updo to draw attention to the luxury diamond accessory. 
For the Loyal Protector
Roya Evil Eye Diamond Bracelet
The Roya Evil Eye Diamond Bracelet is for the loyal protector in your life—the one who is always looking out for you. The bracelet features a marquise cut lab-grown diamond at the heart of the 'evil eye', which sits elegantly on a delicate 18k gold chain. 
Complete the look by pairing the bracelet with its sister, the Roya Evil Eye Diamond Necklace, to immediately dress up any outfit. Worn best with a bold-coloured dress or jumpsuit.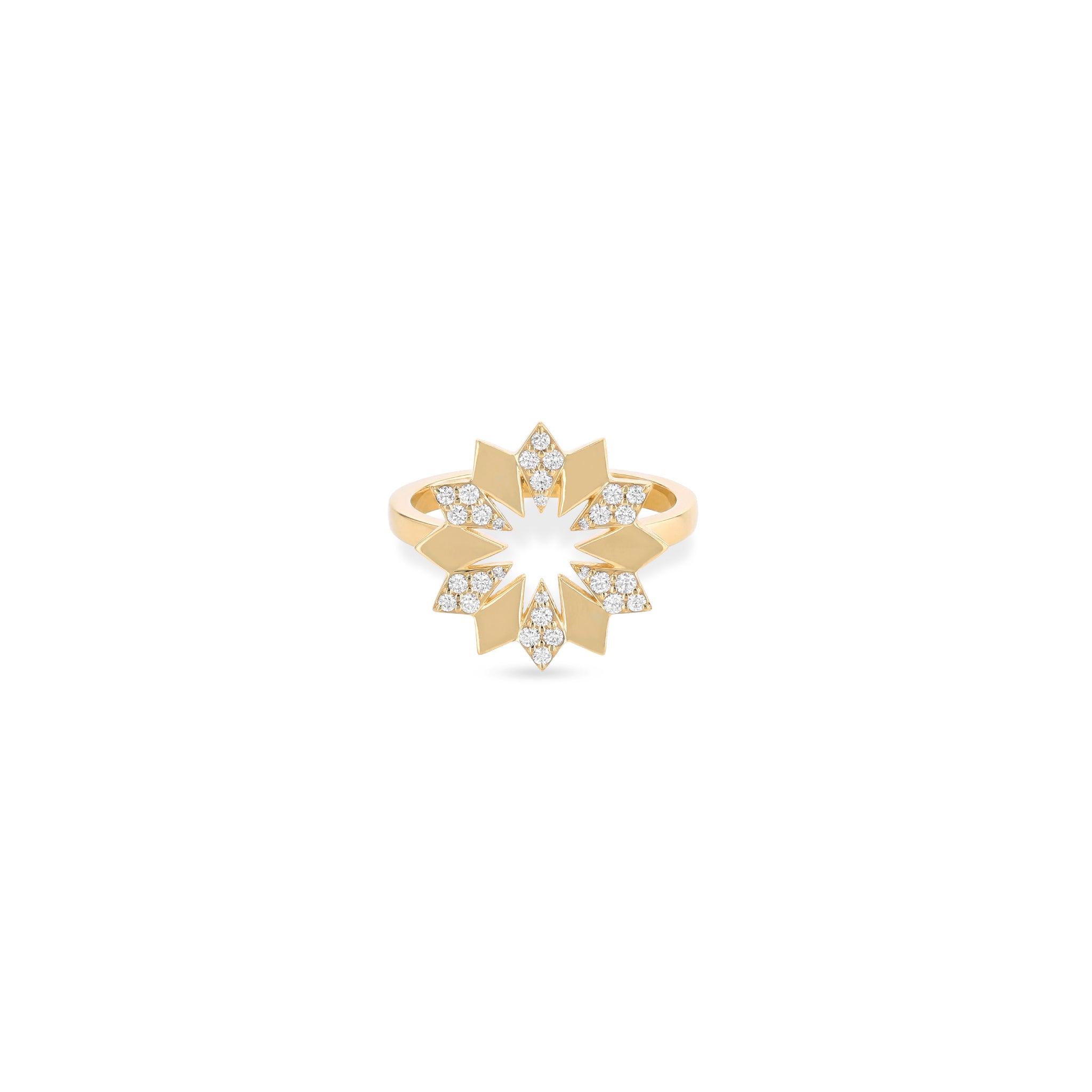 For the Contemporary Woman
Dahlia Diamond Ring
The must-have gift for the sophisticated and modern woman. The Dahlia Diamond Ring features a beautiful Islamic motif inspired by the elegant Dahlia flower, perfect for those who display wisdom beyond their years. Best paired with accessories from our Signature Dahlia collection, this piece exudes confidence with its timeless design. 
Style the ring with an elegant maxi dress for a classic look, and compliment the lab-grown diamonds with a sequinned fabric for extra festive glamour. 
SHOP HOLIDAY GIFTS
More from the Journal
June 13, 2023

Sustainable Summer Styling: Fyne's Complete Guide

With summer just around the corner, holiday mode is on! We've selected some of our favourite sustainable holiday destinations so you can relax, enjoy, and indulge whilst supporting conservation projects and contributing to local communities and ed...

April 5, 2023

Fyne Chats: Our New Packaging, Unwrapped

As Fyne has evolved, so has our direction—we still have the same sustainable values we started with, but now we offer an even wider range of collections, bridal pieces, custom men's jewellery, and other bespoke services. That's why we recently dec...

February 16, 2023

How Do I Choose my Diamond Shape? The Complete Guide

A diamond is a classic stone that carries a lot of symbolism and meaning, most often used for those special, celebratory pieces of jewellery such as engagement rings. There is a lot to think about when choosing a diamond, from the size to the clar...

December 14, 2022

New Year, New Intentions: How to Achieve Your Goals in 2023

As 2022 comes to a close, it's time to reflect on what has passed, acknowledge our personal growth, and set new challenges for the year ahead. With this in mind, we're using December as our month of intentions—channelling a conscious yet determine...

December 5, 2022

Christmas Gifts for Every Style (2022 Guide)

Christmas is nearly here, and you've decided you want to gift as consciously and intentionally as possible this festive season. With only a few weeks to go, we've put together a Fyne gift guide—designed to pair our favourite pieces with your favou...

October 7, 2022

Choosing the Perfect Engagement Ring: Fyne's 5 Top Tips

Thinking about proposing but not sure where to start?  Here are our five tips! You've decided to take your relationship to the next level and are ready to propose to your partner. First of all, congratulations! This is a huge step in your lives to...

September 30, 2022

How to Secretly Measure Your Partner's Ring Size

With proposal season approaching, it's time to talk about engagement rings. December is the most popular month for proposals—with the holiday season cheer and the new year, it's the perfect time to get down on one knee. So with only a few months t...

August 18, 2022

Fyne Chats: Rebranding for the Future

Continuing our series of Fyne Chats, we sit down with our very own Founder, Aya Ahmad, to talk about Fyne's rebranding (completed by boutique design studio MAISON 024 in Dubai). Aya discusses her visions for the future, her inspirations, and her p...

February 25, 2021

Keep Your Beach Clean: 6 Tips For a Plastic-Free Beach Day

Beach season is in full swing and there's no better place to kick back, relax, and enjoy the sweet sounds of the ocean. Keeping the beach clean and preserving beautiful marine life has never been more important in a world of 'plastic-addiction'. S...

August 14, 2022

Fyne Chats: International Women's Day 2022

For International Women's Day 2022, we reached out to some of our Fyne Friends and Clients to raise awareness on achieving a gender equal world. We chatted about their passions, the recent challenges they've faced, and stereotypes they'd like to c...

November 24, 2021

Mindful Shopping: Fyne's Checklist for Conscious Consumers

The holiday season is here, a time for families to come together to eat, celebrate, and treat each other with thoughtful gifts. However, alongside it comes the sale season, with days like Black Friday and Cyber Monday ever-growing in popularity. ...

August 14, 2022

Fyne Chats: 'Less Ego, More Eco' With Reem & Natalya Kanj

How do we make sustainability a part of our consciousness? We sit down with Reem and Natalya Kanj to discuss just that. The forward-thinking sisters are co-founders of Ego & East: a talent management agency born from their accomplished years i...
@fynejewellery
@fynejewellery
@fynejewellery
@fynejewellery
@fynejewellery
@fynejewellery
@fynejewellery
@fynejewellery
@fynejewellery
@fynejewellery
@fynejewellery
@fynejewellery
@fynejewellery
@fynejewellery
@fynejewellery
@fynejewellery
@fynejewellery
@fynejewellery
@fynejewellery
@fynejewellery
@fynejewellery
@fynejewellery
@fynejewellery
@fynejewellery
@fynejewellery
@fynejewellery
@fynejewellery
@fynejewellery
@fynejewellery
@fynejewellery
@fynejewellery
@fynejewellery
@fynejewellery
@fynejewellery
@fynejewellery
@fynejewellery
@fynejewellery
@fynejewellery
@fynejewellery
@fynejewellery
@fynejewellery
@fynejewellery
@fynejewellery
@fynejewellery
@fynejewellery
@fynejewellery
@fynejewellery
@fynejewellery